Cailan's story: Making employment supports play ball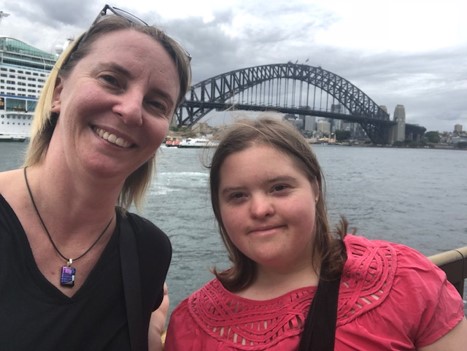 Cailan is in her mid-20s and has worked as an admin assistant at a large sports broadcaster for almost four years. She works for the same reasons most of us do: to earn money, meet new people and use her skills working somewhere she enjoys.
Cailan has a job she loves, but it wasn't easy for her to get paid work in open employment.
When Cailan was 18 years old, a family friend helped her to get a job in a café. She stayed there for two years and received support from a private job coach.
Cailan then accessed support from a Disability Employment Services (DES) provider who arranged a number of different work experience placements.
After taking part in three years of work experience, Cailan decided she wanted to use the skills she'd learned and get a paid job. Her mother set up a work trial with an organisation through Cailan's DES provider. A work trial is when a person works at an organisation without pay for a short time to see if they like the job and for the organisation to see if they would be a good fit for the role. Cailan did well and was successful in her work trial, however, unfortunately the organisation decided that it no longer needed a person to fill that role.
However, Cailan's luck began to change when she responded to a job ad in the Down Syndrome Victoria newsletter for an admin assistant at a large sports broadcaster. With her Mum's support, Cailan applied for the job and got it!
Cailan started working for four hours per week. This was a great start, but Cailan wanted to work more hours. Her employers were happy with this, but they needed help to expand Cailan's role.
Unfortunately, the DES provider could not support Cailan or her employer to make this happen. One of the DES eligibility criteria for workers with disability is that you need to be working at least eight hours per week to get support to keep a job. This put Cailan in a tricky spot because she needed the DES provider to support her to increase her working hours.
The good news is that by now, Cailan was a National Disability Insurance Scheme (NDIS) participant and was able to use her NDIS funding to hire a job coach instead. Together with her job coach and her employer, Cailan was able to increase her role to nine hours per week during the footy season. They did this through a process called job carving. At this stage, Cailan was finally eligible to use a DES provider to help her continue to work the number of hours she wanted to work.
Cailan's job in sport, specifically AFL football, means that her work hours can change depending on whether its in-season or off-season. During the footy season, Cailan works more than eight hours per week, which means she should be eligible for DES during this time. However, because Cailan works less than eight hours per week during the off-season, it cancels out her eligibility for the entire year. Her changes in work hours from in-season to off-season, therefore, means that she does not receive DES at all and has to rely on her limited NDIS supports throughout the year to continue her employment.
Cailan's story shows that while the open employment support systems for people with intellectual disability take time and perseverance to navigate, the benefits are worth it.
If you would like a job, but don't know how to make the systems work for you, you can learn more here: